A pleasant stroll up the highest point in the Clwydian Range, taking in the delightful countryside and some magnificent views. Followed, of course, by a pint.
Start: SJ161605
Length: 4.5 miles
Duration: 1.5 hours
Grade: Moderate
Waypoint 1. Grid reference SJ161605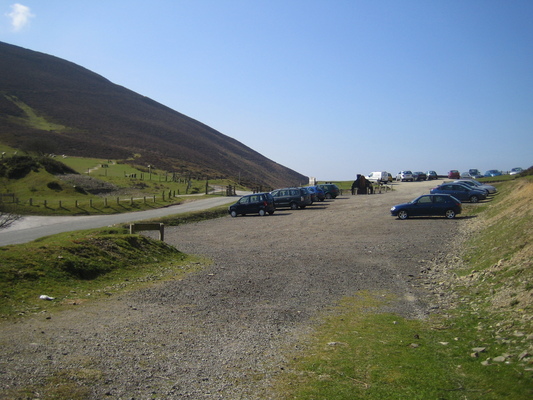 Your walk starts in the top car park (indicated on the OS map), so if you are heading from the Mold direction continue past the first car park until you reach the brow of the hill, where you will find the car park on the right. The car park is not free, but the small parking charge (20p at the time of writing) goes towards maintaining the paths and woodland in the area, so cough up!
Waypoint 2. Grid reference SJ161605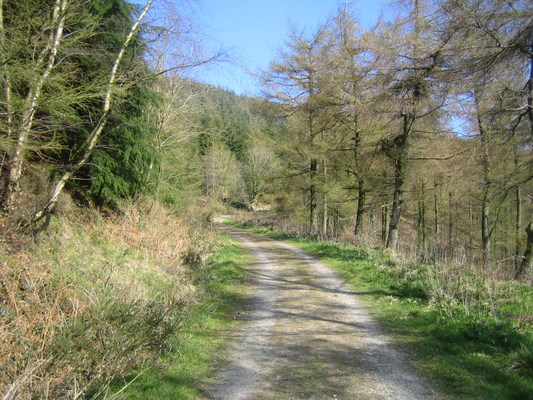 There are a few paths to choose from, but this route begins along the path which runs parallel to the road, at the bottom end of the car park. The path climbs gently but consistently for about 5 minutes, as the road drops away to your right. As you reach the top of this first hill, in the distance you will see the monument which tops Moel Famau's peak. The path will begin to drop again and when you reach the bottom turn right, rather than left to attempt the dauntingly steep slope.
Waypoint 3. Grid reference SJ168616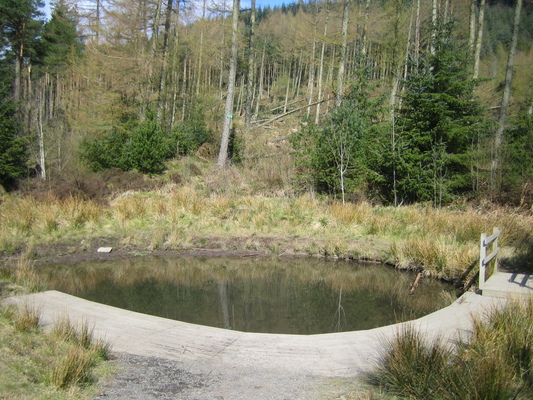 Continue along the path next to the stream -- stopping briefly to admire the small yet picturesque lake -- until you reach another path branching off up hill to your left. Shortly you will reach the crossing point of two paths, where you turn left and can now follow the blue signs, or red if you are feeling healthy. Both paths follow the same route for the majority of their length, through the woods and up towards the monument, deviating from each other when the red path takes you directly up the hill while the blue takes an easier zig-zag route.
Waypoint 4. Grid reference SJ161626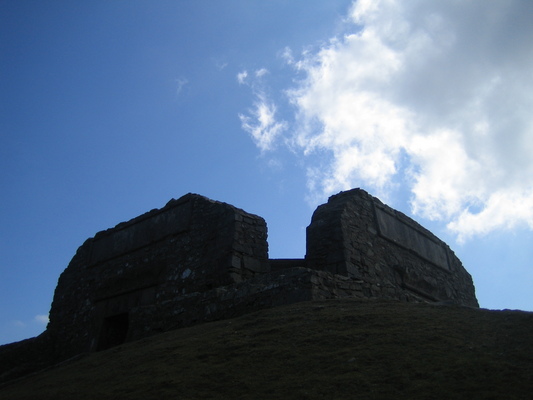 Once at the top, you can catch your breath and enjoy your weak lemon drink while you savour the view over the surrounding Welsh countryside, including -- on a clear day -- the distinctive peaks of Snowdon and its siblings. The monument itself bears three plaques indicating what you can see in each direction. A future, longer walk will continue from this point over to the next peak, so watch this space.
Waypoint 5. Grid reference SJ158619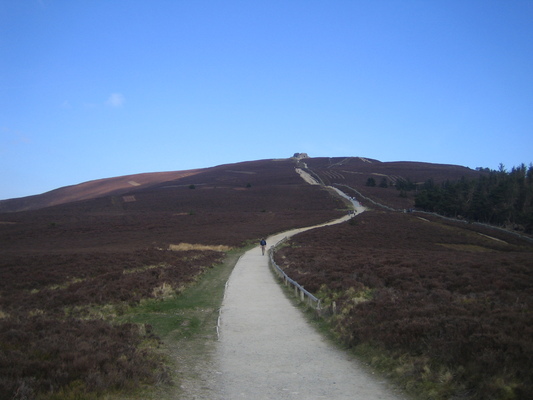 However, the return leg of our journey today starts towards the west, in the direction of the Snowdonia peaks. Simply follow the path down to the car park, taking care not to slip on the loose stones on the steeper sections. There are various benches where you can sit and look over the nearby town of Ruthin. To finish off your walk nicely, the Druid Inn in Llanferres is highly recommended, serving good beer and excellent food.